Applications Due December 1
Interested students must apply through the University of Wisconsin Graduate School.
Financial Aid
For the 2024-2025 year, the stipend for a Research Assistant is $35,000 per year. Research Assistants also have in-state or out-of-state tuition costs covered. Student living expenses in the Madison area are modest as compared to major cities but are consistent with a university town, and the stipend is intended to be highly competitive with other programs.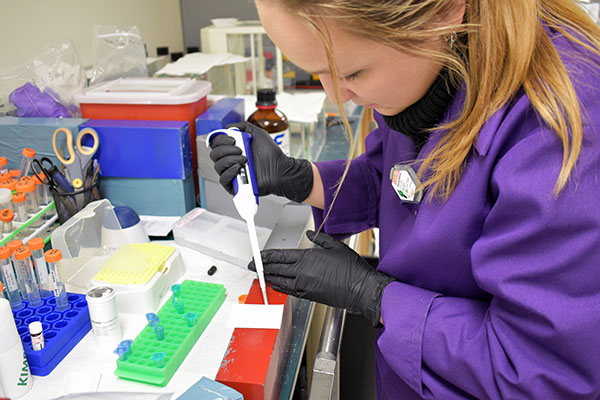 Admission Timeline
September 7 – Applications open
December 1 – All application materials are due
December – January – Application review, incomplete applications might not be given full consideration.
Second week of January – Applications are evaluated, initial decisions are made and highly-qualified applicants invited to open house.
First week of February – Open house/interviews with faculty
February-April – Initial decisions made based on interviews (includes offer made, waitlist or decline). Ongoing discussions and decisions continue
April 15 – Council of Graduate School's deadline for decisions to programs who have made offer(s).
Admission Criteria
Admission to the graduate program is competitive. Applicants are judged on the basis of their previous academic record, including grade point averages, letters of recommendation, and their personal statement of reasons for graduate study in medical physics.
Open House – February
After the admission committee meets in mid-January, applicants deemed "highly-qualified" are invited to attend our open house. This in-person event includes an overview of selected research areas, tours of laboratory, clinical, and classroom space, UW-Madison campus, interviews with faculty, and hosted social/casual events with current students, faculty and staff.
Travel arrangements are coordinated with department staff for those invited.
Undergraduate Preparation
Students entering our medical physics program must have acquired a strong foundation in basic physics and mathematics but are welcome to have come from a range of undergraduate majors in STEM. While a bachelor's degree in physics is considered the most common preparation, other physical science majors such as engineering, computer science, mathematics, chemistry are considered, as long as the candidate has coursework equivalent to a minor in physics (intro college physics, with at least three upper-level undergraduate physics courses or equivalent). Additionally, students should be proficient in mathematics, including multi-variable calculus, differential equations, Fourier analysis, and linear algebra. Research in medical physics touches on artificial intelligence, chemistry, nuclear engineering, and electrical engineering and so proficiency in one of these areas is considered positively. Exposure to organic chemistry and undergraduate biology, and physiology is also advantageous. Applicants who do not have the equivalent of a minor in physics may be admitted conditionally. If so, additional course work in physics must be taken before the student can take the medical physics qualifying exam (end of 2nd year).
English Proficiency
Every applicant whose native language is not English, or whose undergraduate instruction was not in English, must provide an English proficiency test score. TOEFL scores must be submitted electronically via ETS. IELTS scores can be submitted electronically or by paper. Additional information is available on the Graduate School website.
Applying to the UW Graduate School
Students desiring to earn a degree in medical physics must apply online to the University of Wisconsin Graduate School. See the graduate school's Steps to Apply for more information.
Access the Application form.
Request letters of recommendation. Medical physics requires three letters of recommendation from teachers, scientists, or supervisors who can attest to your ability to be successful in graduate work and/or research. Referees must meet the department's December 1 deadline. Letters of recommendation must be submitted electronically.
Upload your CV or resume (please include awards, scholarships, research experience, publications, and volunteer work) to your online application.
Complete the Personal Statement with your reasons for graduate study in medical physics.
Upload transcripts from all educational institutions. (Do not mail these to us.)
Upload your completed Applicant Data Sheet.
Tracking your application
Use MY-UW to track your application. You will receive an email from the Graduate School after you have submitted your application with instructions to activate your account. (You will need your Campus ID and birth date to do this.) If you do not receive this email after you have submitted your application, Contact Us.
Frequently Asked Questions
Do you offer an undergraduate degree in medical physics?
No, we are a graduate degree program. If you are interested in a 4-year undergraduate degree program, check the University of Wisconsin–Madison Undergraduate Majors and Certificate Program website for more information.
I am an international student interested in studies at the University of Wisconsin–Madison. Can I apply to your program?
Yes, we encourage international applications and value a student body with diverse backgrounds. The academic requirements for domestic and international graduate applicants are the same, namely graduate-level applicants who already have 4-year undergraduate (BS or BA) degrees. Individuals who meet this requirement, can apply online.
Do you offer application fee waivers?
If you meet certain criteria, you can apply for a fee grant through the Graduate School. Our program offers a limited amount of application waivers to highly qualified applicants to make sure that the application fee is not a barrier for students from our key recruiting initiatives. Waiver requests are reviewed on a case-by-case basis. In order to be considered, email your CV and transcript to the Graduate Program Manager.
I have not taken the GRE yet. Is the GRE General and/or Physics Subject Test required?
No, the GRE is no longer required or accepted for our graduate program. Please do not submit your scores even if you have taken the GRE.
What international English test scores do you accept?
Please visit the Graduate School website for accepted English proficiency test scores.
Can the TOEFL requirement be waived?
Applicants are exempt if English is the exclusive language of instruction at the undergraduate institution; or you have earned a degree from a regionally accredited U.S. college or university not more than five years prior to the anticipated semester of enrollment; or you have completed at least two full-time semesters of graded course work, exclusive of ESL courses, in a U.S. college or university, or at an institution outside the U.S. where English is the exclusive language of instruction. Completion of graded course work cannot be more than five years prior to the anticipated semester of enrollment. Please visit the Graduate School website for more information.
Can I apply to more than one department at the University of Wisconsin–Madison?
Yes. However, we recommend contacting each department separately to verify admissions requirements.
What are the basic requirements to the medical physics program at the University of Wisconsin–Madison?
Our program has two pathways through it.  For those interested in clinical medical physics, those applicants are commonly physics majors or minors, or must take remedial classes during the PhD to achieve this level.  The minimum requirement is 3 physics course beyond intro college physics, which should include a class in modern physics.   For those doing the interdisciplinary science pathway in medical physics, we welcome other physical science, math, engineering and computation majors to apply and will work with them to tailor their course choices to maximize their research.  However all applicants must be able to take the required courses which include radiation physics and be capable in mathematics including multivariate calculus, Fourier analysis, and linear algebra.  Exposure to computer programming, two semesters of chemistry, college biology and intro physiology are an advantage.
Are paper copies of information and application materials available?
No. The University of Wisconsin-Madison Graduate School no longer accepts paper applications, and the medical physics program requires electronic submission of all application documents through the Graduate School application process.
What is the process for applying to the Medical Physics program at the University of Wisconsin – Madison?
Go to the Graduate School application site and begin your application
Collect all of the materials and upload to this site.
As you upload documents, we will keep track and indicate on your checklist as we receive materials.
What should I include in my "personal statement"? How long should this be?
The personal statement should include your reasons for graduate study, how your personal experiences have prepared you, why you chose medical physics, your future career goals as it relates to a PhD (or MS) in medical physics and your area(s) of research interest. It is to your advantage to research the faculty member(s) with whom you would like to work, and include them in your statement. The personal statement should be no more than 2 pages, single-spaced, 11 point font or larger. 
What if I want to pursue both the MS and the PhD? What should I indicate on the application? 
If your ultimate career goal is the PhD, please apply for only the PhD. This will avoid confusion when the application committee members begin the review process, as the process for review of PhD candidates differs from MS candidates.
Funding opportunities are available to PhD students, but not for MS students in our program, with some exceptions. If you meet certain requirements, you may receive the MS degree from UW-Madison on your way to the PhD.
Use caution when applying for the MS degree only. Many residency programs and/or employers prefer to hire PhD degree graduates over MS graduates for opportunities.
On occasion, some MS degree seeking student may change their mind and switch to the PhD program, and join a research group. This is dealt with on a case by case basis, and is not very common.
Can I still get into the Masters program if I am not admitted to the PhD program?
Highly qualified PhD applicants who are not admitted with funding may be placed on a waitlist and may receive admission to the MS program.
How competitive is admission to the University of Wisconsin–Madison medical physics program?
Admission to the medical physics program is competitive. However, all completed applications received prior to the deadline will receive consideration. Statistics for the past seven years as follows:
| | | | | | | | |
| --- | --- | --- | --- | --- | --- | --- | --- |
| Year | Applied | Admitted | Enrolled | International Students Enrolled | Average Admitted GPA | Average Admitted GRE Scores | Average Admitted Physics GRE |
| 2023 | 134 | 21 | 14 | 28% | 3.86 | N/A | N/A |
| 2022 | 105 | 29 | 25 | 16% | 3.84 | N/A | N/A |
| 2021 | 84 | 18 | 14 | 28% | 3.61 | N/A | N/A |
| 2020 | 77 | 23 | 14 | 21% | 3.56 | N/A | N/A |
| 2019 | 62 | 25 | 10 | 20% | 3.55 | V85% Q86% A73% | NA |
| 2018 | 79 | 41 | 21 | 19% | 3.56 | V77% Q82% A67% | 57% |
| 2017 | 73 | 30 | 15 | 26% | 3.72 | V74% Q78% A56% | N/A |
What is the typical length of time it takes to complete a PhD degree in Medical Physics at the University of Wisconsin – Madison?
The average completion time for the PhD degree is 5-6 years. Exceptional candidates whose research projects are extremely successful usually complete PhD degree requirements in 5 years.
What financial aid is available?
Research Assistantships (RA): Typically, 85-90% of admitted students receive RAships. To be considered for an RAship, when applying you should directly contact faculty members in the areas of research in which you are interested. An online faculty listing is available. Upon the recommendation for admission to the Medical Physics Program, RAships are awarded. RAs receive a stipend, the cost of tuition (resident or non-resident) is covered, but the student is responsible for segregated fees.
Advanced Opportunity Fellowships: Qualifying applicants are submitted for AOF fellowship consideration, but only a limited number receive them. Typically, fellowships are awarded to PhD candidates who are U.S. citizens or permanent residents. Fellows receive a stipend and the cost of tuition (resident or non-resident) and segregated fees are also covered.
I want to transfer from my current graduate-level physics program at a non-University of Wisconsin school to the University of Wisconsin–Madison medical physics program. What should I do?
Only applicants who already attend the University of Wisconsin–Madison in another graduate program will be considered as transfer students. If you are coming from a school outside of University of Wisconsin–Madison, you will need to complete the application process to be considered for admission to our program.
What are the entry requirements for the medical physics PhD program if I already have an MS degree?
Entrance into the medical physics PhD program requires successful completion of required coursework, a PhD Oral Qualifying Exam and a PhD Prelim Exam, with the latter focused on the student's specific research proposal. If you earned your MS degree at a university other than the University of Wisconsin–Madison, you may need to take specific graduate-level courses to prepare for the exam.
I've already completed some graduate-level coursework. Will I be able to transfer my credits to your program?
The maximum number of course credit transfers we allow is in accordance with University of Wisconsin-Madison policies and procedures. Requests for acceptance of transfer credits are reviewed by the Graduate Committee Chair in close consultation with the professor for each relevant course.
Are there opportunities for PhD degree program students who do NOT wish to complete all the core curriculum requirements defined by CAMPEP to "opt out" of such requirements?
The University of Wisconsin–Madison medical physics program offers two pathways, Clinical and Inter-Disciplinary. The program is structured so the student may emphasize the conventional areas of radiation therapy physics and metrology, image science, or health physics, or may develop a plan of study outside of these areas of concentration. The 'Clinical Pathway' offers coursework in conventional areas of medical physics, and the MS and PhD degrees are accredited by the Commission on Accreditation of Medical Physics Education Programs (CAMPEP). The 'Inter-Disciplinary Pathway' offers a Ph.D. degree that can be tailored to a non-traditional area of concentration and is not CAMPEP accredited.
Does the medical physics department offer Distance/Online learning?
No, at this time, we do not have distance/online learning options in place. Medical physics is very much a "hands-on" program. In order for you to receive the high-quality education and training we provide, you will need regular access to the labs, which makes local residency a requirement. With that in mind, generally we require students to be on campus for all MS degree work, and their first year of PhD degree work.
Occasionally, a student who is in dissertator status may conduct their PhD research at another location, away from the UW campus. However, this is unusual, and approved on a case-by-case basis by your advisor and the Graduate Committee Chair.
Do you accept new students for the spring semester?
We strongly discourage applications for spring semester. Our course sequence is designed such that prerequisites for more advanced courses are more easily met by starting the program in the fall semester. Exceptions are rare.
I've completed the application process. What should I do next?
Congratulations! Take some time to review the section of our website that addresses the work being done in various labs and by the faculty members. The applicants who are most highly ranked by the Admissions Committee are invited to attend an Open House in late-January/early-February. At that time, connections are usually made by faculty to determine research assistantships. It is a good idea to narrow down your specific interests in our Medical Physics Department research areas/labs before you attend the Open House, as there are many from which to choose.
Contact Us
If you have questions about the admissions process that are not answered by the information on our website, please contact Taylor at thartung2@wisc.edu, or call us at 608-265-6504.